Evangelism
Prayer is the backbone of any successful ministry. Believing God's Word and acting upon it is the door to seeing real miracles. Knowing God's Word and knowing Him in a personal relationship will reveal His ways, which include love and compassion to all who hurt.

God is calling Christians to recognize He is building His church as a caring, sharing and saving outreach to dying souls. He is using many who care about the lost to share His Word and raising up missionary leaders to reach a world in need that will die in sin unless help is sent. Jesus said, "Truly, I say to you, as you did it to one of the least of these my brothers, you did it to me." (Matthew 25:40)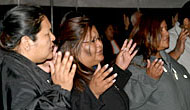 If we will open our hearts to share what Jesus has done for us, we can help change the lives of those who are headed for destruction. If we will not be the light of the world, the Lord will take the candlestick away. Pretending the poor and lost do not exist is avoiding the truth. Jesus said, "the poor you will have with you always." Will you join with us in ministering to them?

Wings of Faith is not just about airplanes. Airplanes are a tool we use in reaching the world for Christ. Evangelism is and always will be our goal. We are a team of believers who are dedicated to the cause: "Real People, Meeting Real Needs." Someone once said, "If you give a gospel track to a hungry person, wrap a sandwich in it."

Wings of Faith conducts evangelistic services wherever we go – from Asia to Africa, Egypt to Indonesia, Mexico to the Native American Indians right here in our own USA. We also help with disaster relief and assist in medical flights.
Missionary Support
We are a professional missionary flying organization. We serve missionaries and those in need for the purpose of bringing hope and the love of Christ to a hurting and hungry world.

Wings of Faith helps with supplemental support to more than 21 missionaries who minister to Native American Indian nations located in California, Mexico, Nevada, Arizona, New Mexico, the Appalachian Mountains of North Carolina, Tennessee and West Virginia. We also support missionaries in Central Asia and missionary aviation groups that serve around the world.

Your financial support helps supply food, clothing, shoes, Bibles, teaching materials, first aid supplies, sundry items, building materials, construction crews and special needs to a team of Christian workers that reach the lost with the saving message of Jesus Christ. Many of the missionaries are living at or below the poverty level and are struggling to serve in difficult environments.

With your partnership, we can help ease their burden and meet each unique need.
Building Ministry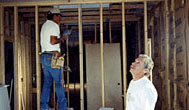 Wings Of Faith has been involved for years with building projects for churches, pastor's quarters, orphanages, group homes and the like. We are constantly looking for opportunities to help those in need as well as provide for worship/learning centers in remote locations.

We have been given great favor with the City of Holbrook, Arizona, and have been allowed to use City owned property for a temporary warehouse. This warehouse underwent repairs in April 2012. The City has also offered land on and adjacent to the airport. We are currently seeking God's leading on erecting a hangar in Holbrook that would meet our needs as a transfer station and for vehicle/aircraft storage. We will be attempting to get bids on a hangar project soon. Please pray that we can accomplish this by God's leading in whatever manner He would choose. Please click here to see our donation page.

Wings Of Faith is also cooperating with two partner organizations in the Holbrook warehouse. This makes economic and logistical sense and is a great opportunity for us. We will be helping with the construction of a women's shelter in northern Arizona in late 2013 and repairing some homes in California later this year.